Window World of Connecticut proudly partners with the following industry accepted organizations.
---
ENERGY STAR
ENERGY STAR is a U.S. Environmental Protection Agency (EPA) voluntary program that helps businesses and individuals save money and protect our climate through superior energy efficiency.
The ENERGY STAR program was established by EPA in 1992, under the authority of the Clean Air Act Section 103(g). Section103(g) of the Clean Air Act directs the Administrator to "conduct a basic engineering research and technology program to develop, evaluate, and demonstrate non–regulatory strategies and technologies for reducing air pollution." In 2005, Congress enacted the Energy Policy Act. Section 131 of the Act amends Section 324 (42 USC 6294) of the Energy Policy and Conservation Act, and "established at the Department of Energy and the Environmental Protection Agency a voluntary program to identify and promote energy–efficient products and buildings in order to reduce energy consumption, improve energy security, and reduce pollution through voluntary labeling of or other forms of communication about products and buildings that meet the highest energy efficiency standards."Now in its 20th year, the ENERGY STAR program has boosted the adoption of energy efficient products, practices, and services through valuable partnerships, objective measurement tools, and consumer education.
---
Better Business Bureau
An honor, not every company is eligible for Better Business Bureau (BBB) Accreditation. Trust in the marketplace is imperative for a market to flourish. Integrity and honesty is a core belief of National Partners of the BBB headquarters. As a National BBB Partner, Window World Connecticut demonstrates the corporate responsibility to advance trust in the marketplace. Click here to see our listing.
---
Good Housekeeping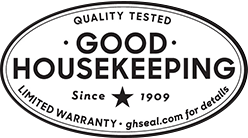 CONSECUTIVELY EARNED FOR 10 YEARS
Good Housekeeping maintains good taste and exercises strict editorial judgment as to products it will accept for advertising in the printed magazine and in reviewing all of the advertising copy it publishes. These judgments are the basis of the Good Housekeeping Consumers' Refund or Replacement Policy.
This seal is Good Housekeeping's LIMITED WARRANTY: If any product that bears our Seal or is advertised in this issue* (with certain exceptions described below) proves to be defective within two years from the date it was first sold to a consumer by an authorized retailer, we, Good Housekeeping, will replace or repair the product or refund the purchase price. This policy covers you, the consumer, whether you bought the product or it was given to you (by the buyer). Products that bear the Green Good Housekeeping Seal have been assessed by Good Housekeeping in accordance with Good Housekeeping's environmental criteria and are also subject to the limited warranty if proven to be defective.
---
The AAMA
The American Architectural Manufacturers Association (AAMA) is made up of people like you, people who are concerned about the direction of their company and the industry. As a material-neutral organization, AAMA brings together window, door, skylight, curtain wall and storefront manufacturers, suppliers and test labs to represent our individual and shared concerns. Our membership is comprised of large and small companies that are both residentially and commercially focused.
---
Wells Fargo
Wells Fargo & Company provides diversified financial services through more than 9,000 stores, 12,000 Wells Fargo and Wachovia ATMs, and the Internet across North America and internationally. We have more than 80 businesses serving customers nationwide, including more than 6,200 Wells Fargo and Wachovia community banking stores in 39 states and Connecticut The Wells Fargo brand is one of the most recognizable in the financial world. Therefore, one of the criteria that we consider when deciding which sponsorships to participate in is that the sponsorship must be compatible with the Wells Fargo brand.
---
EPA
Congress has passed a number of laws related to lead. These laws address lead in paint, dust and soil; lead in the air; lead in water; and disposal of lead wastes. EPA is addressing lead contamination and resulting hazards under these laws in many ways, including by issuing and enforcing regulations. EPA also helps the regulated community understand the federal requirements with policy and guidance documents to assist in complying with the regulations.
EPA is a partner in the United Nations Environment Programme's Partnership for Clean Fuels and Vehicles (PCFV) Exit which promotes cleaner fuels and vehicles in developing and transition countries. Along with reducing sulfur in fuels, and promoting cleaner, more efficient vehicles, one of the key elements of the PCFV is the global elimination of lead in gasoline.